School of Biological Sciences
A new 'School of Biological Sciences' was started under the aegis of RKMVERI (Deemed-to-be-University, established and administered by Ramakrishna Mission) in the academic-year 2020-21 for the study and research in various aspects of biological sciences with special reference to bio-technology (medical biotechnology to start with), microbiology, immunology, etc.
School of Biological Sciences, the sixth school under RKMVERI ( Deemed-to-be-University ), has been conceptualised to add another dimension to the existing ones, to fulfill Swami Vivekananda's vision of building a great university. There has been a growing academic interest in interdisciplinary courses covering the vast areas of Biological Sciences, namely Biotechnology, Genetic Engineering, Immunology and Medical Sciences. These disciplines are at the forefront of scientific research activities and technologies that are needed for the universal well-being in the world.
This new school of biological sciences will synergize with the already existing Department of Agricultural Biotechnology (at IRDM Faculty centre) for interdisciplinary study and research in various areas of biotechnology, with Medical Biotechnology and Immunology as its priority focus areas for the near future. Postgraduate and research programmes leading to PhD would be started to create a pool of bright young scholars and researchers in this field in the Eastern part of the country devoted to serious study and research in these fields.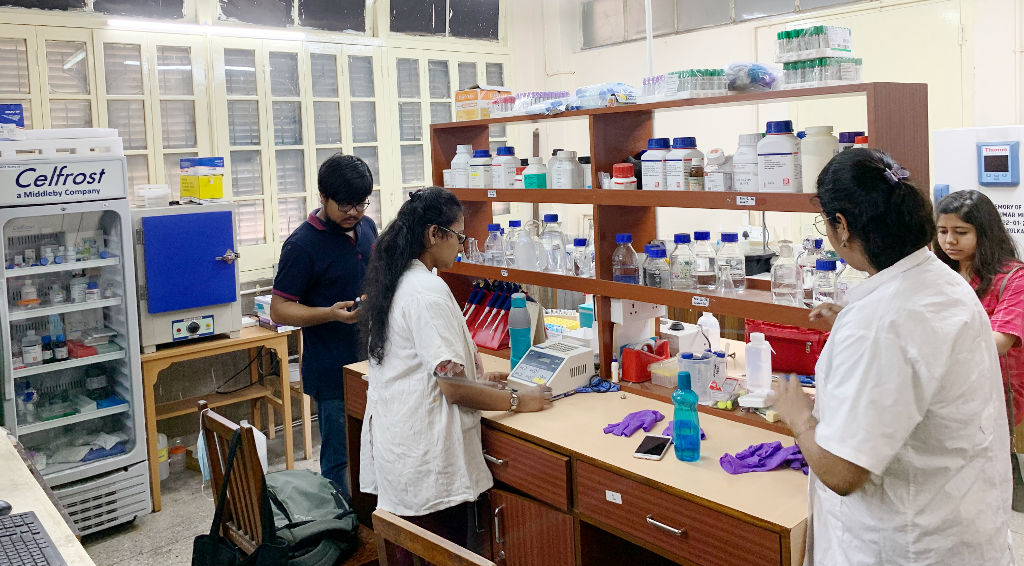 Vision
To strive to become a Centre of excellence in education and research in the field of Biological Sciences, blending theoretical and practical knowledge in this field and imparting such knowledge as well as technological skills to the students aspiring to explore, learn about and research into the fascinating world of Life Sciences both extensively and intensively.
Mission
To provide effective interdisciplinary learning ambience through interfacing different medical and agricultural departments with basic science disciplines in order to create synergy among them.
To offer unique academic programmes at the post graduate level and stimulate research in the above interdisciplinary areas.
To undertake research activities of high standard in various areas of Biological Sciences that would make an impact at the national and international levels.
To devise and offer short term training programmes for facilitating human resource development in various areas of Biological Sciences, such as Medical Biotechnology, Medical laboratory technology, etc.
To strive to develop state-of-the-art infrastructural facilities that would meet global standards.
Under the School of Biological Sciences, a new academic programme was launched, 2-year (4-semester) M.Sc. in Medical Biotechnology in the academic session beginning July/August 2020. In the same year we also started a research programme leading to PhD in the fields of medical biotechnology, microbiology, immunology, etc.
JIVAN is a research initiative of the School of Biological Sciences of RKMVERI Deemed University, in collaboration with Ramakrishna Mission Sevapratishthan (a 600-bed General Hospital nearly 90 years old located in Kolkata). Its objective is to bring together biological scientists with vast research experience in laboratories of reputed Institutes and the medical doctors working in the field in order to create a synergy, taking on board eminent statisticians and computer scientists also to explore the fascinating emerging areas like the use of digital image analysis and artificial intelligence techniques in the medical field. Read more
For any enquiries :
Dr. Subrata Banerjee (Course Coordinator) : ,
Dr. Kunal Sikder (JIVAN Research Unit) : ,
(For PDF version of Vision and Mission click here )
Report from the School of Biological Sciences released on 18 Nov 2021
---
With the addition of this new School of Biological Sciences, the various Schools of the University offering a variety of courses, academic programmes at the Belur main campus and the various 'Off-Campus' Centres (all of them located in the Ramakrishna Mission Centres) across the country are the following :
School of Mathematical Sciences (at the Belur main Campus, Howrah, West Bengal),
School of Indian Heritage (at the Belur main Campus, Howrah, West Bengal),
School of Agriculture, Rural and Tribal Development (at Narendrapur (Kolkata) and Ranchi Campuses in West Bengal and Jharkhand respectively),
School of Rehabilitation Sciences and Physical Education (at the Coimbatore Campus in Tamil Nadu),
School of Environment and Disaster Management (at Narendrapur (Kolkata) Campus in West Bengal),
School of Biological Sciences (at Narendrapur Campus as well as Sevapratishthan—formerly called 'Shishu Mangal'—Hospital Campus both in Kolkata).