Quality Testing Laboratory (QTL), at Ramakrishna Mission Vivekananda Educational and Research Institute (Deemed University), Narendrapur Campus, was established in 2009 with funding support from the then Department of AYUSH, Ministry of Health and Family Welfare, Government of India.
This laboratory is now certified by ISM Drugs Control, West Bengal, and Ministry of AYUSH, Govt. of India (vide approval no. QC-004-DTL dt. 25.01.21) to carry out the analysis of Ayurveda, Siddha, and Unani (ASU) drugs as well as raw materials to check their identity, purity, quality, and strength as per the standards set by Indian Pharamacopoeia. This is the only approved laboratory in West Bengal for carrying out tests on ASU drugs on behalf of licensees for manufacture for sale of ASU drugs.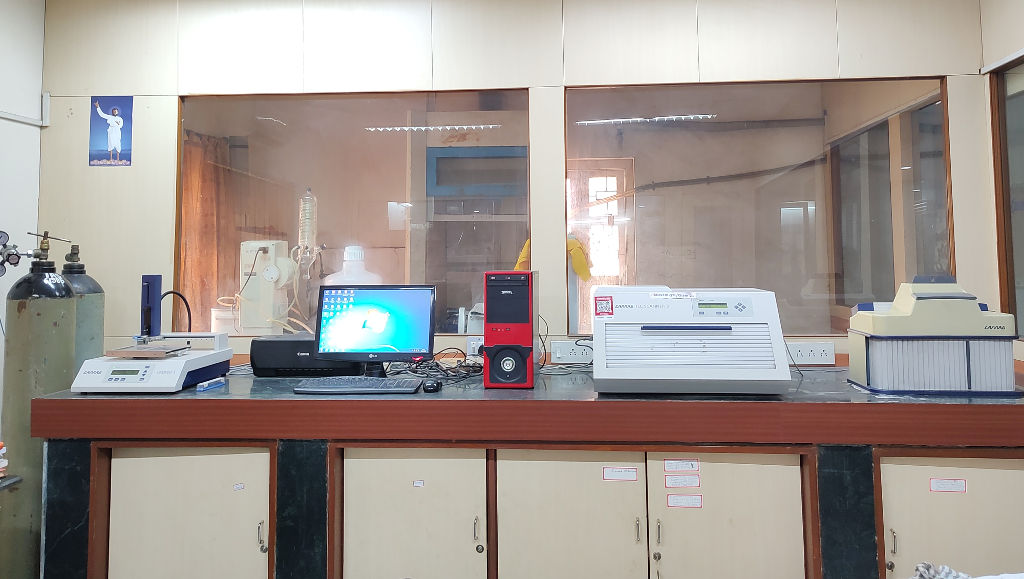 The laboratory houses several sophisticated and modern instruments (UV-VIS Spectrophotometer, HPTLC, HPLC, GC, AAS etc.,) offering a wide range of analytical methods, techniques for the analysis of chemicals/compounds, and also their characterization.
Major works undertaken at the Quality Testing Laboratory:
Testing the quality of Ayurveda, Siddha, and Unani (ASU) drugs and raw materials supplied by manufacturers, growers, and stakeholders;
Isolation and characterization of bioactive compounds from different medicinal and aromatic plants;
The laboratory renders service regarding medicinal and aromatic plants to academicians, researchers, farmers, doctors (ASU) and manufacturers.
The facility is extensively used by research scholars and faculty members of RKMVERI to conduct research and publish their research findings in peer-reviewed high-impact factor journals. The facility is also extended to external organizations such as industry and academic institutions from the nearby areas, on a chargeable basis. The testing rate chart has been updated and approved and the same is provided here for viewing/download.
The laboratory is also engaged in organizing short-term courses/hands-on workshops on the use and application of various instruments and analytical techniques as well as analysis/testing of medicinal plants and ASU drugs.
Contact us:
All queries regarding analysis, charges, and payment should be sent only to .
Phone: 033 – 24772020 & 24770975