Quality Testing Laboratory:-

The Quality Testing Laboratory (QTL) was established in 2009 . It was sponsored by Ministry of AYUSH, Government of India. This laboratory is certified by ISM Drugs Control, West Bengal and AYUSH, Govt. of India (vide approval no. QC-004-DTL dt. 25.01.21). QTL is now functioning as Drug Testing Laboratory (DTL) for carrying out quality, purity and safety of ASU (Ayurveda, Siddha, Unani) drugs and raw materials. All categories of ASU drugs have been tested for quality according to Pharamacopoeia of India. The major work assigned to this laboratory is i) Quality Testing of ASU drugs and raw materials supplied by manufacturers, growers and stakeholders; ii) the laboratory renders service regarding medicinal and aromatic plants to academicians, researchers, farmers, doctors (ASU) and manufacturers; iii) research on bioactive compounds from medicinal and aromatic plants are being conducted by the scientists in this laboratory. Apart from quality parameters this lab is performing tests for contaminants e.g. pesticide residue, heavy metal residue and micotoxins like Aflatoxins. A modern Microbiology section attached with QTL has also been conducting microbiological tests on regular basis.

High-Performance Thin-Layer Chromatography is the most advanced form of Thin Layer Chromatography (TLC) comprising the use of chromatographic layers of utmost separation efficiency. It employs state-of-the-art instrumentation for all steps including: precise sample application, standardised reproducible chromatogram development and software controlled evaluation.

High Performance Liquid Chromatography (HPLC) is a form of column chromatography that pumps an analyte in a solvent (mobile phase) at high pressure through a column with chromatographic packing material (stationary phase). It has the ability to separate, and identify compounds that are present in a sample in trace concentrations as low as parts per trillian.

Gas Chromatography (GC) is a form of chromatography used for separating and analyzing compounds that can be vaporized without decomposition. The mobile phase is a carrier inert or gas, as helium. The stationary phase is a microscopic layer of liquid or polymer on an inert solid support, inside a column.

Atomic absorption spectrometry (AAS) is a spectroanalytical technique for quantitative determination of elements down to (ug dm-3) in a sample using the absorption of optical radiation (light) by free atoms of the elements in the gaseous state.

Collaborative research activity funded by DBT, Govt. of India is going on in association with North Eastern Hill University (NEHU), Shillong on bioactive compounds from medicinal plants to contribute scientific knowledge and render impact to society.

MOLECULAR BIOLOGY AND BIOCHEMISTRY LABORATORY

Molecular biology research uses specific techniques conventional to molecular biology but increasingly combines these with techniques and ideas from important part of biotechnology.

In this faculty centre, as part of M.Sc Agricultural Biotechnology course, molecular biology laboratory is established which is well equipped and properly maintained. It is equipped with thermal cycler, gel electrophoresis systems, gel documentation system, UV spectrophotometer etc.

On going work includes molecular characterization of bamboo, salinity stress tolerance in different crops and effect of phytochemicals in cancer cells.

Molecular characterization of microbes (bacteria, fungus and actinomycetes) are also undergoing in this laboratory.

Current Projects: "Study on Bamboo in vivo and in vitro growing in South Bengal through Morphological and Molecular Approaches" funded by DST, West Bengal

"Anti-tumor Efficacy of Black Tea Polyphenols" funded by DST, West Bengal.

PLANT TISSUE CULTURE LABORATORY:

Plant Tissue Culture Laboratory, now working under Dean, IRDM (Principal Investigator), is one of the most promising sectors of modern biotechnology. The vitro propagation of plant part (explant) in artificial medium under aseptic condition is termed as plant tissue culture.

In this faculty centre, as a part of M.Sc Agricultural Biotechnology course, plant tissue culture laboratory is established which is well equipped and properly maintained. Media for Banana [Musa acuminata, mainly Grand Nain (G9) ], Sarpagandha (Rauwolfia serpentina), Ashwagandha (Withania somnefera), Aloe-vera (Aloe indica), Brahmi (Bacopa Monnieri), Antomul(Tylophola indica), Bamboo (Dendrocalamus asper and Bambusa balcooa), Mulberry (Moms alba) are already standardized using Murashige and Skoog (1962) media, containing different types of phytohormones.

The tissue culture techniques: Meristem culture, shoot tip culture, anther culture, callus culture, embryo rescue are widely used for in vitro cultivation of plants. Current project on going project entitled "National Horticulture Mission (NHM)" funded by Govt. of West Bengal, is carried out in this laboratory to provide the tissue culture raised Banana (G9 variety) plants to farmers.

On going project entitled 'Research and raising of Arabian date tissue cultured sapling' funded by P & R D Dept; Govt. of West Bengal.

All facilities needed for conducting as per requirement of the course.

MICROBIOLOGY AND BIO-CONTROL LABORATORY

Microbiology laboratory: Suitable for isolation of microorganisms from soil and water, along with their physiological and biochemical characterization and long term storage at -800c.

Basic instruments: Laminar flow hood, Incubator shaker, Microscopes (Phase contrast and stereo-binocular microscope).

On going research work on heavy metal (Arsenic and Lead) tolerant bacteria.

Bio-control laboratory is suitable for preparation of: Bio fertilizers (Rhizobium sp., Azotobactor sp., rAzospirillum sp.) Biopesticides (Beauveria bassiana, Verticellium lecanii) and Bio-fungicide (Trichoderma viridae).

Current project: All India project on organic farming funded by ICAR (Govt. of India) "Structure function analysis of the centromers and its associated centromeric protein CINP – A of the human pathogenic candida parapsilosis sensu lato species complex" funded by DST (Govt. of India).
Establishment of Poly-green house and Shade Net house at IRDM Faculty Centre under National Horticulture Mission-Funded project for Plant Tissue Culture Laboratory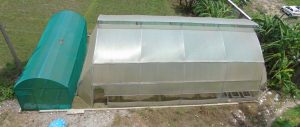 With the objective of suppling quality planting materials to unemployed rural youth and farmers a Project for development of Plant Tissue Culture Laboratory funded by National Horticulture Mission has been implemented. As its ancillary establishment a poly-green house (240 m2 area) along with a screen house has already been setup. The Shade Net house (48 m2 area) has also been setup. Both of these set ups are crucial for ex vitro acclimatization of in vitro raised plant propagules for a period of four to six weeks. After acclimatization, the plantlets will be distributed among the unemployed rural youths and farmers. Initial culture establishment of banana (cultivar G-9) has been accomplished in small scale and the same protocol will be followed for commercial-scale production of propagules.
Laboratories are near completion:
Central Instrumentation Centre
Bioinformatics Laboratory