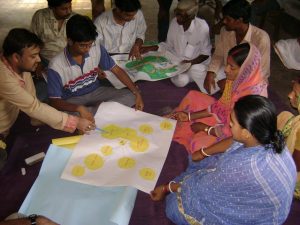 The rural development activities of Ramakrishna Mission Ashrama, Narendrapur, which houses the IRDM Faculty centre, are well known for their integrated approach and emphasis on qualitative development. They are well linked with different departments of the state and central Governments. The international organizations like,
UNICEF,
Ford Foundation
Konrad Adenauer Foundation
German Agro Action
European Union
International Rice Research Institute
International Fund for Agricultural Development
International Institute for Rural Reconstruction
Food and Agriculture Organization, etc.
have a strong bonding with the Narendrapur Ashrama in the matter of agricultural and overall rural development activities.
More than 1000 villages of 12 districts are covered through 267 Village Organizations and 22 'Rural Development Centres' (RDC) situated in the block or district headquarters. These RDCs act as local resource centres with facilities for training and accommodation for the learner-trainees. The RDCs play an effective role in the implementation of various rural development activities like mother and child development, rsurbahar, the instrumentural sanitation and environment programmes, agricultural programmes, rural education, vocational training etc. They also help in the rural placement of our students/trainees. Read on