Laboratory of Cardiology and Metabolic disorder
JIVAN (Jiva-Vijnan-Anweshan-Niketan) — Centre for Research in Biological Sciences
Ramakrishna Mission Vivekananda Educational and Research Institute (RKMVERI)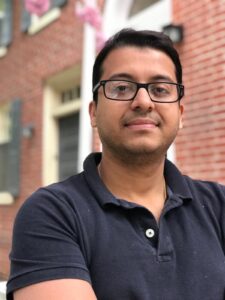 Kunal Sikder
Assistant Professor
Dept. of Medical Biotechnology and Dept. Sports Science and Yoga
RKMVERI, Belur Math, Howrah-711202
☘ Research Scientist
Cardiology and Metabolic disorder group
JIVAN research unit, RKMSP hospital
99, Sarat Bose Road, Kolkata-700026
West Bengal, India
Contact:
Email:
Research Interests
Dilated cardiomyopathy (DCM), Cardiac inflammation

Genetic predisposition of autoimmune diseases including myocarditis and autoimmune thyroid disorders.
Ongoing projects
Involvement of autoimmunity in dilated cardiomyopathy

Genetic polymorphism and epigenetic alterations in autoimmune cardiac and thyroid diseases
Application criteria for potential Research Scholars (PhD)
The candidates should be passionate about working in the field of cardiovascular physiology, immunology and cell biology. They should be willing to tackle problems and be able to develop novel experimental approaches to answer outstanding questions in the field. Prior experience with biochemical assays, mammalian cell culture, genetic manipulation, basic molecular biology techniques like PCR and protein blotting would be advantageous. An eagerness to learn and to exploit and develop innovative methods is the critical requirement. Doctoral students applying for a PhD position preferably have NET qualification in any fields of life science.
Visit the admission page for more details and how to apply online.
Recent publications in the related topics
Kolpakov, A.K, Sikder, K., Sarkar, A., Chaki, S., Shukla, S.K., Guo, X., Qi, Z., Barbery, C., Sabri, A. & Rafiq, K. Inflammatory serine proteases play a critical role in the early pathogenesis of diabetic cardiomyopathy. Cellular Physiology and Biochemistry. 2019;53(6):982-998.
Sikder, K., Shukla, S.K, Patel, N., Singh, H. & Rafiq, K. High fat diet upregulates fatty acid oxidation and ketogenesis via intervention of PPAR-gamma. Cellular Physiology and Biochemistry. 2018;48(3):1317-1331.
Shukla, S.K, Sikder, K., Sarkar, A., Addya, S. & Rafiq, K. Molecular network, pathway, and functional analysis of time-dependent gene changes related to cathepsin G exposure in neonatal rat cardiomyocytes. Gene. 2019;671:58-66.
Shukla, S., K., Liu, W., Sikder, K., Addya, S., Sarkar, A., Wei, Y., & Rafiq, K. HMGCS2 is a key ketogenic enzyme potentially involved in type 1 diabetes with high cardiovascular risk. Scientific reports. 2017 Jul 4;7(1):4590.
Editorial and scientific reviewer positions
Editorial board member of- 'Food and nutrition research' since 2015
Reviewer for- 'Life Sciences' and 'Scientific reports' since 2019